Riding, Horse and carriage
"Riding in Getmossen" is a small family enterprise, run by Britt and Gunnar Nilsson, on their farm which has been in their family for many generations. Formerly they also bred horses and some of the present horses were born on the farm. Today the horses are used for the riding and cart-tours, and with a few of them Britt and Gunnar are successfully taking part in horse driving competitions. The neighbours Liv Jofjell and Wolfgang Ranke are assisting, especially through leading tours in English or German language as well as Swedish.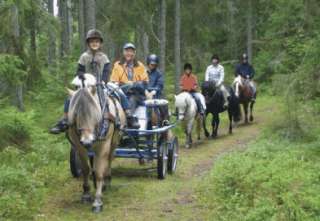 The horses are Icelandic, Norwegian Fjord and North Swedish horses. They are all robust, sure-footed, willing and friendly. The whole year they spend most of their time outdoors in the herd, which results in a good social behavior. The horses become harmonic, showing spirit and eagerness at pretentious cross-country-rides, and walk calm and relaxed in their familiar herd when they carry inexperienced riders on their backs.
Family program "Skogstjärn"
Horseback and/or cart tour to "Abborrtjärn", a small lake in the forest. Those who don´t ride go on the cart, followed by the riders. By the lake we have coffee and cake (it is also possible to grill if wished). Who likes can then make a guided ride through the forest at a pace suited to the level of knowledge by the riders, while the non-riders enjoy the nature at the lake or maybe take a swim, before the whole group sets up for the journey back. Duration about 3 h.
Cross country rides 1 - 3 hours.
The riding tours are carried out individually, according to the desires and skills of the participants.
The advanced rider can experience a varied tour, with climbing, galloping and maybe small jumps over ditches and logs, whitch is something our horses really like!
A quiet ride through forests and meadows, passing beaver dams and beautiful outlooks, is a joy for the mind and demands moderate riding experience.
Persons without any riding experience are given a short introduction and after that we set out for a quiet ride in the nearer surroundings. If the group consists of family members or friends with different experience, regard will be taken to those with less skill.

Riding instruction for beginners can be organized.
Tours with horse and carriage (in winter sleigh-rides) can be booked for larger or smaller groups.
Instruction in driving a horse. Gunnar is an experienced coachman, and enjoys sharing his knowledge, from harnessing and the basic knowledge of driving, to dressage and precision or forest-work with the horse. At times courses are held on the farm, and individual coaching can be given.