Additional activities
Walks
Forest Lake, 60-70 Minutes.
The "Abborrtjärn" is a small, quiet tarn with moss-covered shore and even a small floating island. There is a small bridge and bathing is possible for swimmers.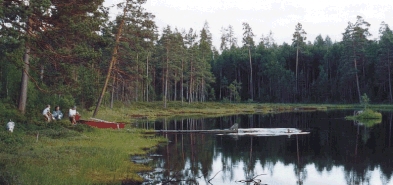 Historical Getmossen, 30-40 Minutes.
(Remains of the soldier´s small holding, "Sissans" holding, the millbrook and the village-smithy, beaver dams.) The path passes former settlements and leads over the brook, formerly used for two mills, now with beaver dams and opportunities for children to play with water.
Beaver dams, 20-90 Minutes, as you please.
The beavers build dams to regulate the water level. The entrance hole to their den should always be under water. They feed exclusivly on the bark from aspen, birch and sallow and from grass-roots. To get hold on the best bark from the branches, they gnaw their way through thick trunks until the tree falls. Branches and twigs are gnawn to handy pieces and pulled to the water where they are being stored in their den or used to build dams. Left over are stumps with typical conical ends. When all the good-tasting trees are used up, the beavers leave the place and seek a new settlement.
The brooks around Getmossen show lots of beaver-activity. Near the water-playground the brook passes a ravine with several small waterfalls. At present there are six beaver dams and one den. Trees cut down by the beavers are lying criss cross and you can see the small paths along which those busy animals pull their branches. At the small lake, 2 km upstreams there is an abandoned beaverden. Downstreams and at the nearby Nolby moor there are several dams, some of impressing length.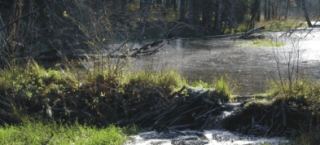 Millbrook, 5 -10 minutes.
Around the former millbrook you can picnic, play and build dams. Children should have an adult along with them when playing there. Instead of the dam that formerly was built there to store the water for the mill, the beavers have now taken care of this job, so also in summer there is usually enough water to make a water-wheel go round.
Bathing places
The next opportunity for bathing is in "Abborrtjärn", a typical quiet and romantic small lake. Since the lake has a moss-covered shore you can only get into the water by a small bridge, so it is only suitable for swimmers.
Bathing places with a sand beach you can find at almost any of the several lakes in the larger surroundings, for example at Pråmsjön (5 km), Ringstadtjärn (8 km), Aplungen (14 km).
Fishing
After purchasing a fishing-permit, you can fish in any lake. The most common fish are pike (gädda) and perch (abborre), in Pråmsjön also pike-perch (gös).
Berries and Mushrooms
From the middle of July you can find wild berries and mushrooms. We don't tell you where, you have to find them by yourselves!
Sawmill
In Bäckebron (3 km) there is a big and modern sawmill, with log-measuring and grading plant, planing mill, board drier installation. It is interesting, already seen from outside.